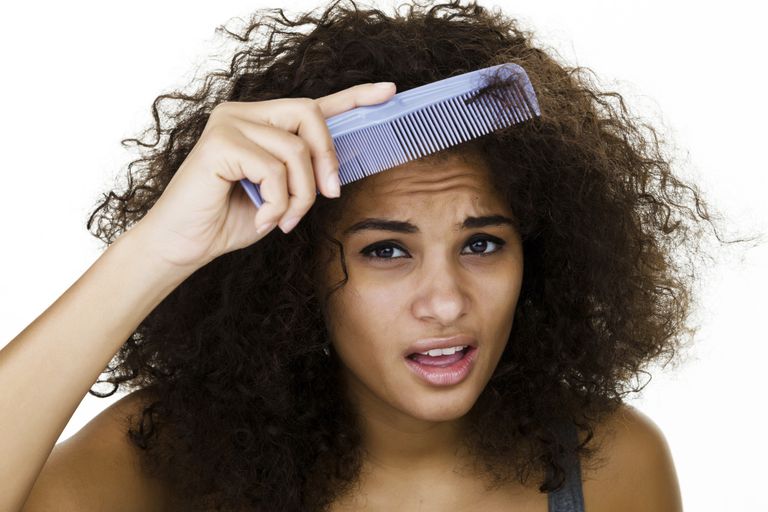 Sure it's not a perfect world, our lace wigs and weaves tangle whether we like it or not. Some types of hair are more prone to matting than others and we can't avoid that entirely. However, with the proper care you can minimize tangling and the harm that comes out of it.
Below are a few of my favorite suggestions on how you can accomplish more tangle-free days, but before we get into those, lets start off with …
… A Few Reasons Why Your Lace Wigs & Weaves Tangle
There are a number of reasons why your long hair tangles over time.
It could stem from the quality or texture of the hair. Purchasing remy hair which is bundled in such a way that the hair cuticles are placed in the same direction, means that the hairs remain undisturbed, reducing or eliminating matting.
The summer and winter weather can play havoc on our protective styles and exposure to strong persistent winds can create tangles and snags in wavy and curly long hair.
So your lace frontal wig or sewn-in weave is more likely to tangle if:
It is super thick and curly
It is long and fine
It is very dry and damaged
You don't brush your hair throughout the day
The Way to Reduce Tangling
Disclosure: We are a professional review site that receives compensation from the companies whose products we review. We test each product thoroughly and give high marks to only the very best. We are independently owned and the opinions expressed here are our own.
1. Do Yourself A Favor – Condition Your Lace Wig
Conditioning the hair will revive moisture back into it, which makes it silkier and less prone to tangle. Its best to condition your  lace wig after washing it, include a good deep condition about twice a month. If you want to know how to easily and properly shampoo and condition your lace wig click here for a step by step guide.
2. Picking The Right Products
Using products specifically designed for lace wigs, weaves and closures is the smart thing to do to protect your investment. Most main stream hair products found at the supermarket or drug store are not ideal for caring for a human hair piece because they are full of harsh chemicals and alcohol which causes excessive dryness and tangling. Choose hair products with a low PH (acidic) over products with high PH (alkaline) which cause cuticles to raise resulting in tangled unmanageable hair.
3. The Right Tool – A Comb
Using a brush may seem like a time saver, but there is no question that a broad tooth comb  or a proper detangling brush

like the one pictured above is a better idea.
By using the right tool you wont tear or damage the hair and you'll remove tangles much more smoothly . Slowly work your way up from the bottom of the hair, gently combing through any knots. If your hair is more prone to tangling, it is probably not a good idea to wear it down all day especially on windy days without combing it through a few times. Be sure to comb it through before showering and before bed.
3. Protecting Your Hair While You Sleep
If you're not already doing this, you should be sleeping either with a silk wrap tying up your hair or on a silk pillow to reduce drying and friction, both of which will cause knotting. If you don't have anything silk to wrap your hair up in, simply tying your hair up in a top knot/ bun as a temporary solution will protect it well enough.
4. Braids
Braiding your sew-in is an effective way of taming your hair and keeping it tangle free, no knots, no matting because if you have done any research whatsoever, you understand how damaging even a simple hair elastic is to your own hair. Tying it up in a ponytail all the time causes the hair to break, so it's always a good idea to try and style it differently than a regular ponytail in the exact same place each time. Remember to braid your hair on windy days or when you're busy.
Useful Detangling Hints
Relax… because handling a knot can be unquestionably frustrating so if you are impatient it will certainly result in pulling out more hair.
Divide the hair in manageable segments before you begin combing it through.
Never brush wet hair because wet hair is considerably more likely to split than dry hair.
And there you have it, tangle-free days are now ahead of you!
Did you find this useful? I hope so!  I'm always ready to answer any specific questions you have so be sure to get in touch. Like and comment on this post, share your thoughts and ideas with the rest of the community so we can all benefit from your knowledge too!
Disclosure: Some of the links above are affiliate links, meaning, at no additional cost to you, I will earn a commission if you click through and make a purchase.
Cheryl Warren